Relational Data Explorer & Editor
Introduction
The Relational Data Explorer is a DbSchema tool for visualizing and editing data from one or multiple tables based on the foreign keys. If no foreign keys are defined, virtual foreign keys can be created in layout. The Data Explorer will open inside the layout and will be saved to the model file.
How to Access the Relational Data Explorer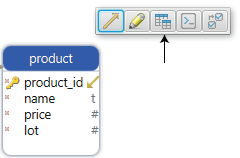 Relational Data Explorer will open in the Tools Section in the lower part of your screen. To descend into further tables, press the foreign key button found on the table header.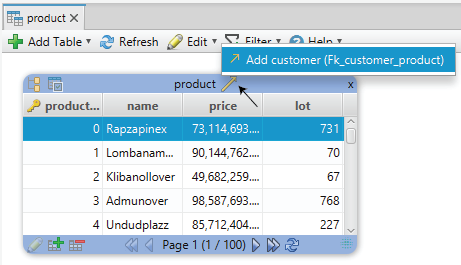 You can cascade an unlimited number of tables. By selecting a different row in one of the windows, the child tables will be updated with the records matching the foreign key between tables.
Filter Data
Filter data from one of the windows by creating a data filter. Click the column header to create the filter.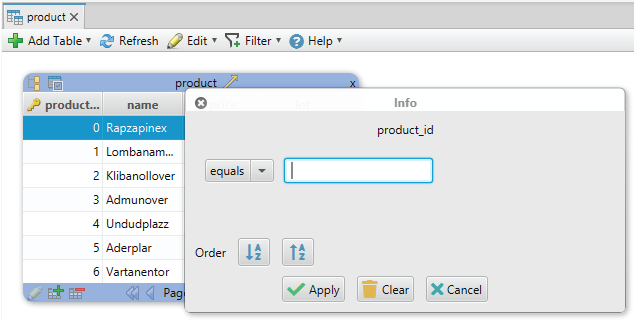 Insert or Edit Data Records
To insert data in the table, click on the insert button found in the footer of the table.
To edit data in the table, click on the edit button. You can also edit data by double-clicking on the cell.
To remove any data from the table, click on the delete button.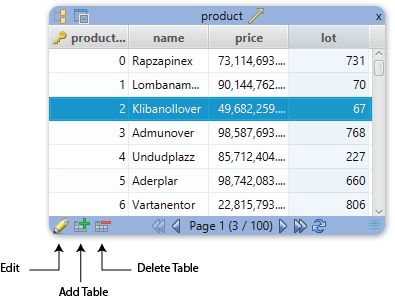 View or Upload Images and Blob Data
Relational Data Explorer can be used for viewing images from the database, blob data, etc. Right-click the column in the browse scene and choose the option to view data. You can view data using external applications like Word, Excel, etc. as well. You have to enter the file extension under which the content will be saved. DbSchema will save it with a random name and the given extension and will open the application that is registered in Windows as the default application for this extension.