How to Connect to Firebird
Connecting to the database will require to enter the host, port, database user and password as explained in the
Connection Dialog
.
Connect from DbSchema using the default user SYSDBA with password masterkey, and the 'C:\dbtest.dbf' in the Database field.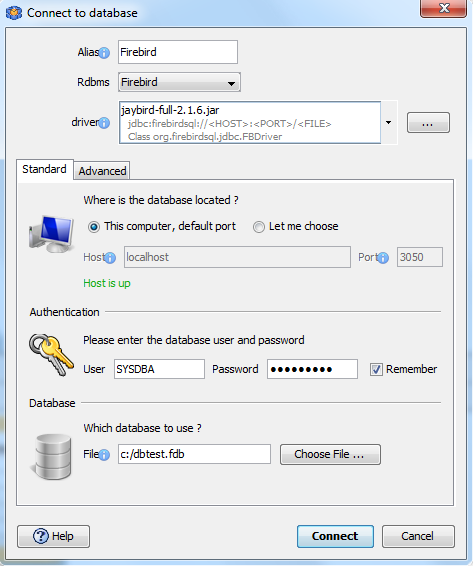 Firewalls & anti-viruses may block database connections. Read
How to enable Firewall connections
.
Guided Installation Tutorial
Download Firebird Sql from: http://www.firebirdsql.org/en/downloads/
Select the components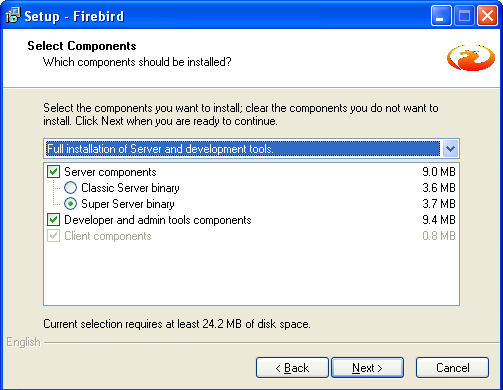 Create or don't create start-up folders....Select Additional tasks: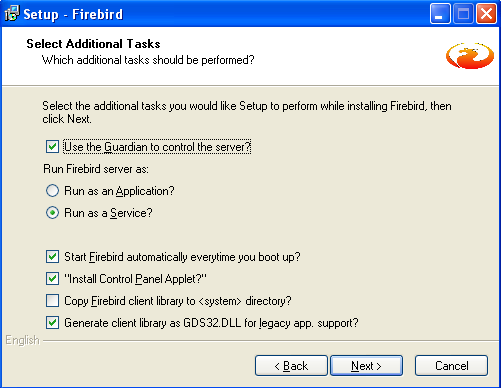 You may manage also the way Firebird is running using a tool you can download afterwards from 'http://www.firebirdsql.org/manual/qsg15-installing.html'.
Before connecting to Firebird create a database in Firebird by launching ISQL and execute
create database 'c:/dbtest.dbf' user 'SYSDBA' password 'masterkey';
commit;


Fix Encryption Errors in Jaybird 3
As to the "Incompatible wire encryption levels" error, Firebird 3 by default requires wire protocol encryption, which Jaybird 3 doesn't support (it will be available in Jaybird 4). You need to configure Firebird (in firebird.conf) by setting WireCrypt to Enabled as documented:

    - https://www.firebirdsql.org/file/documentation/drivers_documentation/java/3.0.2/release_notes.html#notes-on-firebird-3-support
    - https://github.com/FirebirdSQL/jaybird/wiki/Jaybird-and-Firebird-3